Organic & Premium Mulch in the Waterbury, Ansonia and Bridgeport Areas
Mulch is used for all types of commercial and residential properties. It helps to reduce weed growth and retain moisture during the spring and summer months. During the winter, it helps to prevent soil erosion, protects bare soil, and protects plants. Mulch also comes in a variety of colors which can add to your property's curb appeal. That is why so many homeowners use it on their property. Unfortunately, most homeowners have a difficult time determining the amount of mulch they need for their property.
Bulk Mulch or Bagged Mulch
For most homeowners looking to mulch gardens or landscaping beds, the decision to use bulk mulch or bagged mulch can be daunting. On one hand, having a huge mound of mulch emptied from a delivery dump truck may seem like a bit much to manage at first. On the other hand, guessing the number of bags needed to do the same job – not to mention the premium you'll probably pay for individual bags – also causes uncertainty.
Here's how to break it down:
Determine the square footage of the garden bed

Measure the length and width of the bed and multiply.
Length x Width = Square footage of a rectangular area
For circular areas, measure the Radius – the distance from the center of the bed to the outer edge.
Multiply that by itself, and then multiply that by 3.14.R x R x 3.14 = Square footage of a circular area
When your garden bed is an irregular shape, divide the shape into smaller rectangular or circular shapes, calculate the square footage of those areas and add them together.

Determine the depth of the mulch layer
Mulch works wonders for controlling weed growth and regulating moisture in garden beds. However, too much mulch can work against the natural growth of your plantings by restricting the water and oxygen flow to the root zone. Here are the recommend mulch depths:

Vegetable and flower gardens: 1-3 inches
Tree and shrub beds: 3-4 inches
Now that you have the square footage of the area and an idea of the depth you'd like, you can estimate the quantity of mulch you'll need with much greater accuracy.
Burns Materials Makes It Easy
Let's say you'd rather be gardening than doing math – but want to be sure you make the right decision so that you don't fall short of mulch or have too much left over.
Burns Materials can help you with that!
All online product pages for Burns Materials mulches include a calculator to help you determine how many cubic yards of mulch you need based on your square footage and choice of depth. We then calculate the total cost of the mulch, exclusive of the delivery charge. All you need to do is enter the cubic yards you'd like to purchase.
And if you haven't quite decided on the type of mulch you'd like to use, the Burns Materials product pages provide information and photos for all our mulches to help you decide. Check out our Brown Mulch, Black Mulch, Red Mulch or Sweet Peet Organic Mulch.

Bulk or Bagged – by the Numbers
It's important to understand that bulk mulch is purchased in cubic yards (one cubic yard covers 324 square feet) and bagged mulch is purchased in cubic feet – a much smaller quantity. Moreover, most bagged mulch is sold in either 2 cubic feet or 3 cubic feet quantities. So for small-space beds, it may make sense to use bagged mulch. If you are trying to cover more than just a few plantings, it may make sense to use bulk mulch.
Let's say your garden bed is 40 feet by 10 feet, to a depth of 2 inches.
Calculate Bulk Mulch Quantity
For bulk mulch, the Burns Materials calculator will tell you that's 2.469 cubic yards – or 3 full yards. The math behind that is:
40 ft x 10 ft = 400 sq ft
400 sq ft x 2 in = 800
800 / 324 = 2.469 cubic yards (3 full yards)
Calculate Bagged Mulch Quantity
For bagged mulch, we take our square footage and multiply by one of these numbers, based on the desired depth:
1 inch = .083
2 inches = .167
3 inches = .25
4 inches = .33
5 inches = .417
We want 2 inches of depth, so:
400 sq ft x .167 = 66.8 (67 full feet) cubic feet of mulch
If the bagged mulch holds 2 cubic feet, you'll need 34 full bags; with a 3 cubic feet bag, you'll need 23 full bags.
3. Compare!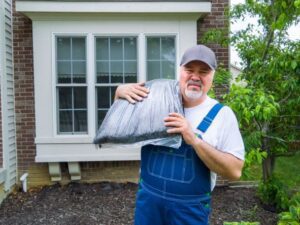 Your decision is between 3 cubic yards – at the price generated by the Burns Materials calculator – and the retail price for either 23 or 32 bags, depending on the size of the bag.
Beyond the cost consideration, there are other factors that may play into your decision. The convenience factor, for instance. Burns Materials can deliver your mulch quickly, or you can arrange to pick up your mulch. Plus with bulk mulch, you are eliminating extra plastic bags from taking up room in the landfill.
Contact Us Today for Landscaping Materials
Burns Materials proudly provides all types of landscaping materials to the Waterbury, Ansonia and Bridgeport areas. Our products include topsoil, garden soil, aggregate soils and sands, decorative stone, organic mulch and premium mulches, and grass seed and hay. Our knowledgeable staff is available to answer any questions you may have regarding mulch. We can help you to determine which mulch product is the most appropriate for your landscaping goals. Contact us today to order your mulch!